The Calgary Shrine Event Centre
Looking for a place to host your event?
Hold your next celebration at the Calgary Shrine Event Centre

Escape the city without leaving. A breathtaking backdrop for your day.
Just 20 minutes from downtown, The Calgary Shrine Event Centre is one of Calgary's best-kept secrets. Nestled in the Bow River valley surrounded by lush evergreen forest on a private lake, the Event Centre's tranquil and private setting promises to make sure your event is like no other, no matter the season.
Wedding Ceremonies & Receptions
Retreats, Conferences & Seminars
Company BBQ'S , Christmas Parties
Fundraisers, Community Events
Anniversaries
Birthdays Parties
Retirements
Family reunions
From the minute you arrive to this private lakeside venue, you will feel as though you've escaped the city. From the breathtaking views to the spacious ballrooms, ample parking, delectable catering choices, outdoor gazebo, private lake and acres of private grounds, you will have the perfect backdrop for your special event. Whether you have 50 or 250 on your guest list, the Calgary Shrine Event Centre has your ideal space.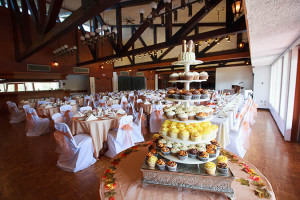 Capacity: 75 – 125+ people
Dimensions: 4,000 sq. feet
Location: main floor
Features:
• soaring ceilings with rustic beams
• hardwood floors
• a wall of windows and a terrace overlooking the lake and valley
• private bar
• The Fireside Lounge with a copper-plated fireplace and cozy seating.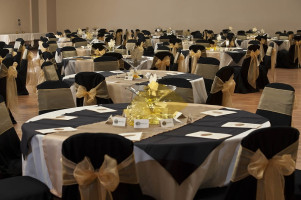 Capacity: 125 – 250+ people
Dimensions: 5,000 sq. feet
Location: lower floor
Features:
• High ceilings
• Private bar
• A wall of windows overlooking the lake and valley
• Walk-out patio and deck area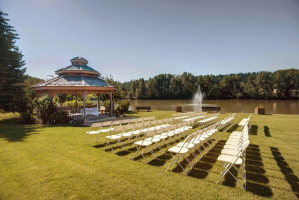 Capacity: 25-250
Location: Waterfront
Features:
• Wooden-shingled gazebo
• Lush grass
• Intimate views of the lake and lit water feature
(Wedding Ceremony only hosted with reception)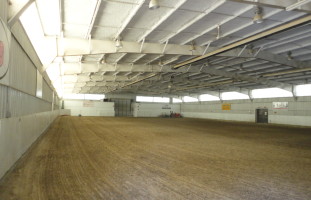 The Equestrian Stables, Corral and the Fez Dome at the Shrine Centre.
The Al Azhar Mounted Patrol Fezdome is a horse riding arena that has been and can be used for "western style" events.